Subscribe

to The graphic designer's blog Another interesting marketing concept, for Deus Ex Human Revolution

That's a very different field than the previous post, that of the video game industry, however the kind of campaign is similar. And not for just any game, one of the best ever in my opinion, Deus Ex Human Revolution. … Continue reading...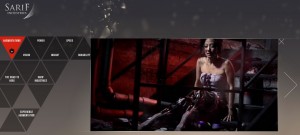 That's a very different field than the previous post, that of the video game industry, however the kind of campaign is similar. And not for just any game, one of the best ever in my opinion, Deus Ex Human Revolution.
For that game the marketing team made a "mini" website, the Sarif industries website. Of course that company doesn't actually exist, it is part of the game's plot, a company specialized in cybernetic implants for which the hero is chief of security, and is going to start asking himself questions, first about his employer, then about the whole system, the whole world, figuring out the democracy he believes he is living in is not as democratic as one might think, especially because the medias are under a very strong control… Not only that website is the homepage of a fictional company, but which seems to be a real one, showing the different devices they sell and their advantages, news extracts, etc. just like a real corporate website would, but it is also placed into the game's context, where an anti implants activists group, which apparently seem to be against cybernetic implants for ethical reasons, is at war against them. That website therefore looks as if it had been hacked by that activists group, and navigation is malfunctioning, but that's done on purpose, with plenty of anti-implants messages preventing you from going to the different sections of the website if you're not quick enough, making you discover what the game is about, its context. But even before seeing these messages and starting navigating through the website, a lengthy video with real people has already started showing you the game's plot, disguised as a news against implant technology, also supposed to have been placed there by the hackers. Extremely well done, that fake news video goes as far as showing us people using implants in real life, with such images as athletes running with artificial legs, modelled in 3D especially for the sake of it. That fake news explains that implants are making the gap between rich and poor people even wider, for only rich people can buy them, and they enable them to be more efficient than normal people, in a very unnatural way. Amongst many other things. That's fiction, but it's very frightening, for we can easily imagine our society choosing this kind of scary path, and I like that, a game that makes you think, as an anticipation book such as 1984 would. Anyway that's not what my post is about. Considering technical and writing / directing quality, as well as the video's length, even though it's even not used in the actual game (certainly because of the huge contrast there would be between the real people featuring in there and 3D characters of the game), my guess is that it wasn't just made for the website itself but also for a news conference, a teaser for the video game to come, leaving space to the unknown / mystery. But maybe I'm wrong, it's just a guess. For on the other hand, that video being on Youtube, and being very well done and intriguing, it is perfect for making a lot of people speak about it, create a buzz, and lead to the website, through which you then discover the video game hiding behind it.
Once again that kind of concept has a dual result: advertisement for the game, through the amount of people speaking about the video and / or the website and recommending it, but for the people already playing the game, it can also be received as a present, giving them a positive image of the game's team, encouraging them to advertise for it, besides the inner qualities it already has. The video enables you to discover the game's plot, but for people who already know about it, it is also a way to go deeper into it. For this kind of marketing campaign, the targeting of the two kinds of audience is obvious: on one hand a share link on the video, with Youtube, Facebook and Twitter buttons are clearly there for the first kind of audience (even though the lines between the two kinds of audience can quickly become blurry, for fans can quickly become the most prone people to advertise for the marketing content). But players themselves are invited to visit the website through the presence of QR codes linking to it within the game (QR codes are bar-codes for mobile phones, scanning them with a smartphone opens up a website they link to). These QR codes are placed on Sarif industries branded cardboard boxes, and look as a simple decoration element. It therefore is not obvious at all they are actually linked to something, unless you try them out, I personally only found out about them after finishing the game, searching for some deeper information as I really liked the story. But that makes it even more interesting, making it quite exciting if you discover that by yourself, and it looks like an Easter egg left by developers (which it clearly isn't, it's much more advanced, considering the amount of money the website must have cost).
That's not what this post was about, but as I have covered everything I had planned to, I want to give you some deeper information about the game itself for people who would like to know more about it: definitely one of my favorite games of all times – for it is a mix of liberty of action of an RPG (role playing game), you need to find out how to go through the game, to uncover the plot, by speaking with the different characters, and choices you are going to make are going to change the way the story unfolds. During the different missions, one is going to switch between FPS (First Person Shooter) and covert action in a pure Metal Gear Solid way. But none of these game styles is imposed to you, it's up to you, the player, to decide, and you can mix them if you want. Something I especially like about that game, in a time and lapse when ultra-violent games are everywhere (such as GTA, which I hate, not for the game-play, but for the message it conveys, even though GTA V tries to make it seem as if it's actually not in the way it ends, but that's just an excuse, and the truth in my opinion, is that Rockstar encouragesnviolence, very basic – and bad – human instincts, and are trying to make the most money possible out of that, knowing that basic is successful) is that, if you can choose to go through the bloodbath path, as in any FPS, it is very clear that's not encouraged by the developers, it's very clear during the closing credits, but way before, you see it many times during the game. For instance, at the very beginning, after a mission in "cooperation" with the police, you will be "rewarded" by reactions of disgust from the policemen if you chose the bloodbath path. And you can finish the game without actually "killing" any character, besides from the bosses (which the critics didn't like as all of the game besides from boss fights is about liberty of action), and that's very rewarding: you can hide yourself from your enemies (which is even rewarded by some experience points, if you have been like a ghost – never spotted) or you can just knock them out, use tranquilizer darts. Even though it's nearly impossible to play through the whole game choosing the pacifist path, not because the game doesn't enable you to do it, but because at some point you find yourself confronted to a huge dilemma: your enemies, mercenaries who make the law in Shanghai, are responsible for something absolutely inhuman while they're searching for a hacker and it's really hard to want to spare their (virtual) life. I won't say more, no spoilers, but yes, it's just a game, but the story is so deep, it really makes you think… All of that with the possibility of augmenting yourself cybernetically during the game, the "augs" choices you make radically changing you game-style (you can choose to become a "human bomb", which of course puts you on the bloodbath path, or become invisible for a while, or jump twice higher than normal and then access otherwise inaccessible parts of the game, to break through walls to find alternate paths…) If that weren't enough (but that's a major thing for me to like a game) the story is brilliant. Not if you take it first degree, you wouldn't appreciate, or really understand how deep it is, I find extremely ridiculous all of the conspiracy theories, which are a sign of extreme paranoia from anybody who believes them, and which are tightly linked to American culture (in US one can be sued for conspiracy. That's not possible in most or all of the European countries. You would rather sue someone for power abuse, it's subtle, but it makes a huge difference, and partly explains why we are much less paranoid in this part of the globe). And this game's plot is that most of the conspiracy theories are actually true, that we are not governed by the people we think, the people we vote for (amongst many other many people). However let's put things in context: it's a Canadian game, not an American one, and it's a fiction, absolutely not trying to make us believe anything in the storyline is based on reality (And that's obvious during the closing credits, because of the very peculiar but interesting way they chose to make them). The writers don't believe in the conspiracy theory. But they use that as an excuse to criticize some dark aspects of modern society, as an anticipation book would (like 1984). As much as I don't believe in conspiracy theory, some of the game's subjects are not only plausible and worrying in a future society, some things could become as bad as in the game if we are not careful. Some are even true nowadays, no such things as the illuminati in the real world, and freemasons are neither a hidden society nor people to be afraid of (even if a lot of the things they do are for the good of people I would more afraid by the groups as the Anonymous, for the simple reason that they decide to be the law, thinking the law is not good enough in our democracies, and that can be as dangerous as corrupt governments, anyway, I'm digressing), it is a fact that the world sometimes seems to be more controlled by markets than by official governments, and that's frightening. Anyway, I won't say more, but I highly recommend that game which has some very deep and interesting subjects, which make you think, as long as you don't take them first degree, as long as you take them for what they are, a fiction, and a very good one for that matter.
Interesting marketing concept for a TV series
You certainly don't know about that TV series, as it's a French one (as it was very successful in France it got exported so actually you might), but even though I'm not at all in the target audience (feminine, and … Continue reading...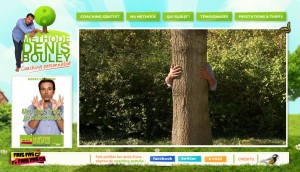 You certainly don't know about that TV series, as it's a French one (as it was very successful in France it got exported so actually you might), but even though I'm not at all in the target audience (feminine, and older than me), I love Fais pas ci, fais pas ça. It's, in my opinion, a French TV series at its best: one which doesn't try to take itself seriously, which enables finding original concepts, in that case the criticism of a certain part of society though two fictional families, who live in the same street, and both of which are part of the upper middle class, but very different kinds: one is bobo (that French term literally translates to Bohemian upper middle class, it means upper middle class people who try to act as if they were not, drinking sustainable coffee to show they care for people for example, but showing off with their i-phone) and the other one is a very traditional family, very religious, the husband working and the wife at home. They seem to be exact opposites, at least that's how they see each other, yet sometimes they actually aren't, the bobo family wants to look cool, and open minded, but more often than not the mother is actually putting a lot of stress into her children. And when they are actually doing things very differently than the other family, it is not a good thing as they are way too careless. The other family being very traditional they have all the defaults linked to that, and they hate the bobo family. But their children know each other and are friends of each other. That leads to a lot of funny situations. Anyway that article is not about the TV series but about its marketing campaign : The Denis Bouley method website (Sorry, it's in French only).
I've always liked marketing concepts which are more than just advertisement for something, but rather try to attract attention in an original way, to create buzz. It's the case there, that website looks like a professional coach's business website, but especially kitsch and with a lot of videos inside – which is logical for a TV series. Denis Bouley is the father in the bobo family, in the series.
There are two positive aspects to this kind of concept. The first one to be taken as a present by the fans, in such a way as a DVD bonus is liked. This enables getting some fidelity from the audience, to make them want to see new episodes, enlightened by the fact they think they have received a special treatment.
But that's also a way to make people who stumble upon that website and first find it a little weird, for a coaching website, then discover that's because it's linked to a TV series, the logo of which is present in the bottom left corner, with a link to its official website.
Of course the most important result will be the buzz, viral marketing created by people like me who find this website interesting and therefore link to it, making free advertisement for the series without nobody asking them to do that. People interested by the concept will then follow the link, and discover the series that way.
Whether you know the series or no it's a fun website (if you speak French) which gives you an idea of the series' humour.
Mobile monitors: a revolution for traveling graphic designers
It's a real revolution for all graphic designers who like traveling and want to be able to work on the road, such as me. I love traveling, but the problem is that you are limited in both weight and volume … Continue reading →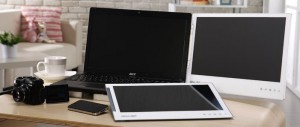 It's a real revolution for all graphic designers who like traveling and want to be able to work on the road, such as me. I love traveling, but the problem is that you are limited in both weight and volume when you do that, because there's a maximum weight I can physically carry, and because of the weight limitations of airplane companies. You can't carry with you an external screen. But that's a necessity for any true graphic designer, because one quickly becomes cluttered with the huge amount of tools that come with graphic design software such as Photoshop, and that's even more true with video software such as After Effects. Especially when you have invested in a light and small computer for convenience. Although small, it can be very powerful, more than enough for motion graphics, customized in order to be the most efficient possible, with an SSD hard drive an 8 gigabytes of memory, but the 13 inch screen quickly becomes an issue.
What about a tablet ? Basic tablets, Android or iOs powered, are not usable for graphic design by themselves, because of software and hardware limitations : not powerful enough, and touchscreens are not suitable for graphic design, you need either a stylus or a mouse. But what about using them as external screens for a laptop? Bad idea. There are software solutions for that, but they're not suitable to graphic design as the tablet doesn't work as a real screen, more like a second graphics card. That means it doesn't use your graphics card's graphic acceleration, a necessity for graphic design. Other than that the tablet is used as a server with these solutions, it's a network system that enables connectivity with the computer. A USB2 network… That's slow. Therefore you will have some lag on the display. Far from perfect.
But that's the past.
What a surprise it was for me to find in the Taipei, Taiwan electronics market a mobile monitor, conceived to be used with a laptop… or anything else that can be plugged to it… It perfectly suited my needs… Small (13 inches), light, without the need of a power adapter, because using a USB port as power source, possible to connect either to an HDMI either to a VGA port. That was at the fall of 2011, and that Taiwanese brand, GeChic, was certainly the very first one to showcase this very innovative concept. It wasn't cheap, about 130 euros, but I didn't hesitate even a second, I now own this product. I'm now as efficient on the road as when I'm home thanks to that screen.
However that screen, first of its kind, has quickly become obsolete, because of this brand's new models, but also because of competition which realized how attractive such a concept was and created products as good or even better.
Mine is the GeChic 1301, and it is flawed (but let's be fair, as they actually created the concept – at least the very first ones to create a mobile monitor with a usable size : 13 inches or more, and the only ones I know of nowadays to use an actual display cable, HDMI or VGA, therefore no need for a driver and broad compatibility with any device with such a display port, not just Windows PCs desktops or laptops – to have the idea and to go all the way to the creation means it's the most creative brand of the kind). Not expensive, but conceived to be stuck to the back of a laptop, which is not a good solution, not to mention the fact that the suction cups don't work on all laptop models, I used to work on my Packard Bell, it doesn't anymore on my Sony Vaio, because of the material used for the casing. Another problem is that once attached, it is hard to take it off, and I was always worried of damaging my laptop. I therefore prefer doing without these suction cups and use a temporary stand I make myself with anything I have at hand (books for example). Who would want to constantly have a screen attached to his / her laptop? Another issue is that it's not a very strong-built product, a carrying case is necessary (I use that of my Wacom graphics tablet). And even that way, because I always carry it with me in a bag, I lost some little plastic pieces. The LCD screen is not protected either which is not very logical for something you carry around. Just some flexible plastic, just like the screen of a laptop computer. Except the keyboard of the laptop protects the screen when the computer is folded up. The screen's resolution is low, 1366×768, but that's a standard for that screen size, and no mobile monitor has a higher resolution.
The GeChic 1302 seems to have a much better finish, even though some of the flaws are still there. It's much lighter, but the VGA cable has become an option which is a shame. There is a rubber stand which seems to be a much better solution than before, and avoids having to find temporary solutions. I don't think the screen is more sturdy, and it's still unprotected.
The 1501 seems to be a variant of the 1302, but bigger, en 15 inches wide. Its resolution is unfortunately not better.
With the 2501a, GeChic seems to have addressed many issues, an efficient integrated stand and a screen cover, and there is a mini jack plug and speakers as HDMI conveys audio as well as image. But there is only a 15.6 inches version of that product, which is quite bulky.
The 2501m is the same with a battery, and an MHL plug (the HDMI standard for mobile phones, when they have it).
Here is GeChic's website. Buying is more complicated. Either you go to Taiwan like me (of course I didn't go there for that at all but for discovering this wonderful country, but that's another story). If you're British, Scandinavian or American you're lucky enough, there are solutions for you. Here is the list of distributors).
When a company creates an innovative and interesting concept, it doesn't take much time for bigger companies to copy and distribute it broadly. A lot of companies have therefore entered the arena. That's unfair for the pioneers because they're too small to distribute their goods globally, but it can be good for you, putting a similar product at your reach.
That's the case of Lenovo (Chinese company, ex end consumers part of the IBM group) which sells a 14 inches mobile monitor. Lenovo's monitor has an advantage over the GeChic ones, but that advantage can also be considered as a huge drawback : it uses only a USB 2.0 cable for power and images, but that means it needs a driver. Therefore, only Windows PCs are compatible. No plugging to a video game console, a Mac, a standalone DVD or Blu-ray player, unlike all of the GeChic monitors… It doesn't work in landscape mode either, and it is heavier than the Gechic ones, including the 15.6 inches versions. But it does have a screen cover, an integrated stand… And it is available in much more countries…
Of course other companies have entered the arena, the HP U160 for example, but it is not as broadly distributed as the Lenovo. But considering how big HP is it certainly will. But it's 15.6 inches, which I think is too big for a mobile monitor, especially considering the resolution is the same as all the other ones I've written about. As the Lenovo, it works with a USB connection, which means it has the same compatibility flaws. And worst, it's a Y shaped cable, meaning you need to use two ports… More expensive and heavier than both the Lenovo and GeChic monitors, les globally available than the Lenovo ones, I don't think it has any advantages to it.
Finally you have the Toshiba mobile USB monitor, which as the Lenovo and HP monitors, and unlike the GeChic ones, use a USB plug, again with all the compatibility flaws that means. It seems quite similar to the Lenovo offering but is more expensive. Like the HP one, it is not as globally available as the Lenovo monitor.
As a conclusion, it's a pity GeChic doesn't have a broader distribution, as they clearly have the best offering for people searching for that kind of solution… And it's a good thing for them the competition didn't copy their main advantage, wrongly seeing it as an inconvenient because requiring more cables, and forgetting about compatibility: the fact they use proper display cables…
Motion design / motion graphics design example
For once, I will exceptionally use this blog for self-advertisement. As you might have realised, it is a sobdaimain of the www.emotion-designer.com website, which I own, and which is my online portfolio / show-reel. Why emotion designer ? Because I'm … Continue reading...

For once, I will exceptionally use this blog for self-advertisement. As you might have realised, it is a sobdaimain of the www.emotion-designer.com website, which I own, and which is my online portfolio / show-reel. Why emotion designer ? Because I'm a freelance motion designer, but the domain name was not available. However the « e » stands for new technologies, and also for creating emotions through animated images. What is a motion designer? He / she is a creative person who uses the video media in order to convey messages, through a mix of images, animated elements and videos he / she puts into shape. He / she is an images specialist who searches for the best way to convey messages through images. If that seems very similar to being an art director, that's normal… Most motion designers are their own art directors, the difference is that they also have the necessary technical knowledge, meaning they can go from idea to finished product by themselves, whereas an art director needs to use third parties.
But what can you do by mixing videos and graphic design? Many things. TV branding (for example the video jingles you see just before advertisement, which have a specific look typical of the TV channel they're on, and that differentiate that channel from the other ones through graphical consistency, but also the opening and closing credits of a TV show which have their very own individual look, as the graphical consistency for them is in the show itself and not the channel). It can also be DVD / Blu-ray interfaces creation, or corporate movies / convention movies with a strong visual / graphical style. And advertisement of course. That's the most frequent fields of motion design, but there are others.
Illustrating this article is an example of motion design, a video I made to wish a happy new year to my clients and my friends. Even though it looks like 3D animation, it actually isn't, I didn't use any 3D software, but Photoshop, Illustrator, and After Effects only.
A Mac system on a PC, that's possible
As stated previously, I'm a graphic designer, but I don't like Macs. And I've got good reasons for that: why pay an expensive price for a product you can have, much cheaper, and more powerful, in the PC world? Especially … Continue reading...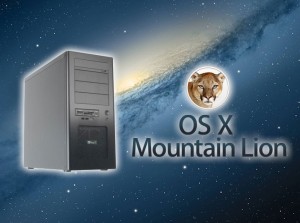 As stated previously, I'm a graphic designer, but I don't like Macs. And I've got good reasons for that: why pay an expensive price for a product you can have, much cheaper, and more powerful, in the PC world? Especially when you see some expensive Macbook pros are sold around 1,800 euros, without a dedicated graphics card, just the integrated Intel chipset coming with Intel Core i microprocessors… Especially when, the PC world, often wrongly accused of copying Macs (whereas actually the copy is two way, actually even three way as both Microsoft and Apple copy from the Linux world, making user friendly innovative ideas in a system which is unfortunately not for being too difficult to use for everyday users and for not having the most popular software, Steve Jobs himself said a lot of good about copying other people's work, saying somebody who just copied something was a bandit, but somebody who copied something to make something better out of it was a genius, which makes you wonder why while he was still alive he launched so many legal procedures against companies such as HTC or Samsung) is in fact becoming the most creative one, thanks to Windows 8: Even though I don't consider that system as being a progress at all for normal computers, with a mouse and no touchscreen, it has the merit of trying to encourage a complete different way of conceiving computers themselves, with the hope that altogether new way will be more comfortable to people than the original concept which now dates from a few decades already, it enables having a real, full-fledged computer, in the shape of a tablet, instead of encouraging the use of multiple gadgets as Apple does with its iPad, because the iPad can be more comfortable to use for some things, but you still need a real laptop as its functions are limited, a waste of money.It is not the first time Microsoft is being extremely creative, already a long time ago, it was extremely innovative with the invention of the Tablet PC, but this technical prowess wasn't a success, as the company only gave the concept, letting the manufacturers build whatever they imagined in a very anarchic way, and its system was not very fit to use with a stylus, and even less with a finger. Another problem was that those computers were too bulky and heavy for use as notepads. With Windows 8, and the Surface Pro (the one with an Intel processor, and a real Windows system which enables you to install all of the software you're used to on a computer, not a Windows 8 RT which is nothing more than a blown up version of their mobile phones system) they gave the guidelines, with a system comfortable to use with a touchscreen, the advantages of a real laptop – not just the software but also a physical keyboard, all of that easy to hold in the palm of the hand, neither excessively bulky nor heavy. This led the way to creativity in the computer making companies, with more or less flawed results such as the Sony Vaio Duo and jewels like the Samsung ATIV Smart Pc Pro 700. I also don't agree with the legend about the Mac system being more ergonomically advanced than the Windows one, as I often use both systems (Windows 7 and Mac OS Mountain Lion) and I don't find the latter better at all, some things are better thought in Mac OS such as the preview window for files when you press the space key, but others are better thought in Windows (I hate the Finder which makes you have to switch constantly between the different views, because if you're in thumbnail mode for example you can't navigate easily in your file system anymore, whereas in the explorer the hierarchy of your folders always stays in the left pane so that you can navigate through them, no matter which view you select from for the folder you are in (thumbnails, details, list…). I also hate the fact you cannot maximize windows such as in Safari or the Finder, and that "flaw" exists since the first Mac Os X. To make things short, I don't see why I would pay twice more money for a machine just to have the incredible luxury of using a system which as a whole is… neither better nor worst.
Anyway, that's an article about installing a Mac System on a PC, it's not about Windows 8 or the advantages of Windows over Mac OS, so let's come back to the main subject.
When Apple launched its big "revolution" of switching from Motorola Microprocessors to Intel ones, because they had become way too slow compared to competition, Macs became no more and no less than "simple" PCs. And the one and only reason why PCs with the Mac OS system are not sold by big companies is because Apple doesn't give them approval to do so. It would absolutely be possible to do so, even with their policy of accepting only a small amount of hardware compatibility in order to be able to control everything and insure their system's stability, they could select their partners (Dell did try to approach them for example), and allow only the use of specific components to third parties. Therefore the only things that prevent them to do that is their business strategy. Yet another reason for me not to want to buy their products.
You will have understood it, I'm not at all pro Apple. I don't consider their products as being bad, just not better than the other brands, and way too expensive for what they are. It's just a question of taste. And yet with this way of thinking I have a Hackintosh.
Why? Two reasons: the first one being to be able to handle projects which have been started on a Mac because some footage is Mac only (such as the use of the few After Effects plugins which are not available for the Windows OS, or the Prores codec encoder which comes with Final cut pro, for it enables light and good quality files, and can be read on any system, Mac or Windows, where Quicktime is installed. Therefore ideal for archival. And that's all, for everything else I prefer using the Windows system, 95% of the time, that is. But it was enough to justify installing a Mac system.
You have to know that in Europe (at least France Spain and Germany, not sure about other countries) Apple is not allowed to make people use their software on their hardware only, not because it would absolutely be forbidden, but because the general rules and conditions are only accepted virtually (just a simple checkbox) when you start using the system, whereas you would need to sign a form while buying it for them to have any legal value.
It is completely legal, in Europe, to build your own Mac with your own, not apple branded, components, as long as you use a version of the system you have bought. I won't give instructions for that, simply because I'm not the best one to do that, there are many specialists of that subject on specialized websites which do it better than me. Here are the links to these websites: Insanelymac and Tonymac. Another excellent website, not for advice but for getting different drivers and tools is osx86. For all of these websites, a subscription is necessary.
Don't worry, installing Mac OS is not overly difficult, it doesn't require you to be an engineer or a geek, as long as you have enough technical knowledge, the kind of technical knowledge you need to install software or an OS, unlike what some people who have never actually tried would write on forums. It works more or less like the standard installation of Mac OS, except you need to prepare an installation DVD for PC with the help of the official installation file you have bought, and a software which was developed especially in order to do that by the hacker community. Then you need to select and install the drivers especially modified for PCs, a step that is not required on a real Mac as the installation file has all the necessary drivers for real macs and detects automatically what it needs to install. Unlike you can sometimes read on forums, it is not more complicated than putting a customized firmware on a PSP, or a customized rom on an Android phone after rooting it. As long as you choose hardware which is very similar to the real macs (especially the same motherboard chipsets, the same kind of graphics card…). Therefore avoid such things as AMD microprocessors, which are not used in real Macs. You just need time (it's hit and miss, you often need to install the system a few times trying different combinations of core drivers to see if everything is working or not, that's the most frustrating part of the installation process). But if you want to avoid that whole frustrating part and reinstalling a few times you should chose a machine that has been tested and approved to be a 100% compatible on the forums and just follow strictly the different steps described for the installation process. And for that I strongly advise to build your own computer, putting together different approved components, as an already built computer will always have at least a small part of its components not compatible. The forums I linked to gives the list of the tested and working components, such as mainboards, graphics cards tested and working, etc., and give you the full installation procedure. That way you will get a 100% compatible computer, with all components working without exception, as on a real Mac. A Hackintosh (A PC with Mac OS on it) is not an emulated version of Mac OS, it is running the actual version of the system, with full support of the hardware. It therefore is cheaper and can depending on your choice of components be much quicker / powerful than the real stuff.
Installing on a laptop is also possible, but that's more touchy, simply because you cannot chose your components one by one, and it's much more complicated to find the exact same computer that someone has tested for sale than to find independent components. Not to mention that by the time someone has successfully installed OS X on a specific computer, and taken the time to explain step by step the installation process, that computer will most likely be outdated. The other problem with laptops is that, even when successfully tested, they will never be 100% compatible, the main issue being with Wi-Fi, you generally need to replace the internal Wi-Fi card by buying a compatible one on eBay – if and only if that card is easily accessible and can be unplugged. Another solution which doesn't require you to use a screwdriver is to buy a compatible Wi-Fi USB dongle, but that means having something that sticks out of computer, that most people don't like. If you don't buy a laptop that hasn't been tested it's risky business, you cannot be sure how it will behave with Mac OS, even when it seems to have very similar components as real Macs. It might even not work at all. Avoid anything with Optimus technology (dynamically switching graphics card, between a GeForce graphics card and the Intel chipset, for power saving), because you won't be able to use the GeForce card, only the integrated chip should work with graphics acceleration – if Mac OS has the driver for it, but it's far from being as powerful. No AMD graphics card will work with the laptop's screen, even though it's usually working with external screen if you find the correct drivers for it.
And even if you have bought a laptop which seems to be very similar to a real Mac, you can have bad surprises, that you won't have by building your own desktop machine with approved components (Sony Vaios for example are known for the incompatibility of most of their laptops' screens, because of their very specific way of connecting the screen to the graphics card, that's what my Hackintosh is, a Vaio with an Intel IH55 chipset on the motherboard, core i5 microprocessor, GeForce 310M without Optimus technology, and it works flawlessly, with graphics acceleration and everything… except the internal screen stays blank, I need to plug in an external HDMI or VGA screen. Wi-Fi is the other thing that doesn't work but that's normal. That means I cannot use it while travelling unless I have an external screen at hand. For the usage I make of OS X, though, it's absolutely sufficient.
If that installation seems too complicated to you, and you don't have the courage of browsing through forums in search of solutions, you need to know that in Europe it's not only legal to install Mac OS on a PC, but there's also no law going against selling such a thing. I therefore give you the links to two companies which sell such computers, a German one, PearC, and a Spanish one, notatus. The Spanish website has the advantage of selling a laptop they have tested as a 100% compatible. But use these websites at your own risk: the German brand has been reviewed by some big and trusted websites, which said good things about it, but the latest information I could find about it are from 2009. As for the Spanish company, I haven't really investigated into it.
Rebirth of the graphic designer's blog
OK so, a few years ago I created this blog, searching for editorial guidelines which wouldn't be the classical ones that graphic designers like to use: a blog which is nothing else than their portfolio, or about some designs they … Continue reading...
OK so, a few years ago I created this blog, searching for editorial guidelines which wouldn't be the classical ones that graphic designers like to use: a blog which is nothing else than their portfolio, or about some designs they like. My editorial guidelines were not to write about graphic design itself, but about the technologies that are in orbit around it, and thus without any advertisement for Apple, as it is a cliché that a graphic designer should use a Mac for his work. Not only it isn't true but Adobe software is in fact better optimized for the hardware using the Windows 7 Operating System. That's the reason why, in the traditional area of graphic design, still images, nearly everybody uses a Mac, even though that's the one that needs the less processing power. But for motion design, where processing power is much more important, only half of the people do, even though I must admit the Prores video codec which comes with Final Cut Pro is a serious advantage. And then in the 3D area, most people use PCs.
Unfortunately, my blog having been left to rot for a few years, from quite a lot of visits thanks to an article about Tablet PCs usage for graphic designers, a subject which very few people had written anything about and quite a lot of people were interested about, I find my blog flooded by uninteresting spam comments instead of real comments left by people really interested in the subjects I had written about. That's normal considering the content has become obsolete. I thought that was a pity, I therefore decided to renew all of that, starting up by changing the CMS I was using, as the old version of dotclear – a French CMS – I was using didn't have any efficient anti-spam solution. I therefore switched to WordPress, even though the page footer, which I haven't changed, suggests otherwise. Not because the latest Dotclear version was not good, it seems excellent, actually easier to use to use than WordPress, and the transition was of course much more simple even with the deep graphical modifications I've done to the aspect of the pages, but when I had done switching to that version locally on my computer with WampServer, I realized while uploading the new blog that it was incompatible with the two host solutions I pay for, even though they're two different providers. Dotclear developers seem to have forgotten – since quite a long time ago – that the lambda blog creators (even though they're not that lambda if they install the CMS by themselves instead of using an all in one online solution such as the paid for WordPress or Blogger) aren't geeks, or companies, who own their own server. And shared hosting is generally limited to a very old PHP version… I am not using the latest version of WordPress for the exact same reason, but it still is a pretty recent version, the latest one I can use, and it already comes with its share of interesting new functionalities. That's because, unlike Dotclear, the WordPress team has sticked for a very long time to an old version of PHP with end user compatibility in mind. But because of that, mainly because of the change in the link structure implied by a change of CMS developers, my ranking in search engines has dropped drastically, my content being old it was already not well ranked anymore, but that finished the bad which had already been done.
Switching to a new CMS has also been the occasion of creating an English version of this blog in parallel, and you are reading it, welcome. All of the articles before this one already existed before, but they were in French, I've translated all of them, except the ones who were obviously completely obsolete, which I deleted. There will be a lot of new articles this year, I hope you like my blog.